Overpriced markets make investors cautious
NEW DELHI: A price-to-earnings (PE)
ratio
of over 34 times for the sensex, compared to the long-term average of 21.8 times, shows that experienced investors have turned extremely cautious. Market analysts, however, feel that as long as central banks around the globe keep pumping money into the system and the economy, stock prices may not fall anytime soon.
The
PE ratio
indicates the amount of money an investor is ready to pay for every rupee of a company's net profit. According to Axis Securities chief investment officer Naveen Kulkarni, it's the global
liquidity
deluge that's pushing stocks and markets to record valuations, which look "stretched".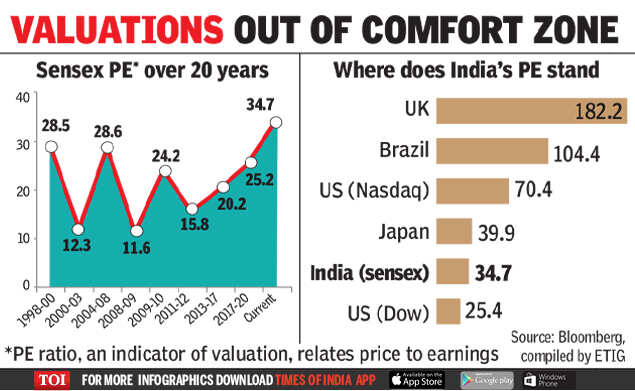 So, if global liquidity continues to remain at an elevated level, then chances of a correction in markets will also remain low. "Good quarterly results by corporates are also supporting prices, so any deep correction in the market is not expected," he said.
The liquidity deluge is the result of the concerted efforts of central banks around the world that opened their financial war chest to support their country's economy as the pandemic ravaged across the globe. Market players pointed out that this was the result of their learnings from the global financial crisis of 2008-09. "It's a template they are following to come out of an extremely difficult financial situation," the head of a broking house told TOI recently.
The result of this flood of liquidity is that "we now have more money to buy stocks but the supply of stocks is not matching the flow of money", said an investment adviser.
This adviser also agrees with Kulkarni's view that any deep market correction is a distant possibility. "The chances of any correction look remote as long as liquidity infusion measures by central banks do not reverse…and that may not happen in the next couple of years," the investment adviser said.


Source link
#Overpriced #markets #investors #cautious