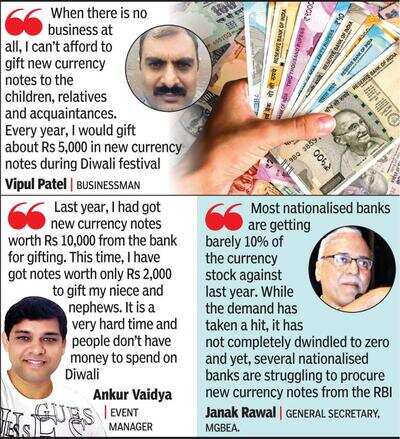 Surat: Come Diwali and Gujaratis make a mad rush to banks to get freshly printed currency notes of smaller denominations to gift their near and dear ones during the festivities. But with economy hit hard by the coronavirus pandemic, the demand for new currency notes has dipped by a whopping 50%.
Anil Kumar Joshi, manager of State Bank of India's (SBI) Chowk Bazaar branch in Surat told TOI, "Last year, customers would start visiting the branch 15 days ahead of the festival to get the new currency notes. This time, very few customers are visiting the branch for getting the new notes."
Joshi added, "However, some of our customers from diamond and textile businesses have placed the advance orders for new currency notes for their employees and gifting purpose."
Sources in Surat's banking sector informed that the currency chests in the city including that of State Bank of India (SBI) received less number of new currency notes in the smaller denominations such as Rs 10, Rs 20, Rs 50 and Rs 100 from RBI due to the weak demand.
Last year, the six currency chests of the nationalised and private banks received Rs 1,200 crore worth of new currency notes. This year, the banks are likely to receive anything between Rs 600 to Rs 700 crore in new currency notes due to the weak demand said sources in the banking sector.
Rakesh Sindhav, a money exchanger in Bhagal said, "Last year during the same time, people would exchange their old notes with new currency notes. This time, we are hardly getting one or two customers per day." These exchangers charge anything between Rs 15 to Rs 30 per exchange of Rs 1,000 with new currency notes.
Bankers in Ahmedabad said that demand for cash has certainly gone down post the lockdown as people have either limited cash withdrawals and switched to online payments.
"However, Diwali is a different time, when people traditionally withdraw cash, particularly new currency notes to give it as a token of love to their dear ones. This tradition particularly exists among elderly people and due to the pandemic, footfalls at the banks of the elderly have drastically reduced. In general, the demand for new currency notes is also less," said a city-based banker, without willing to be named.
The Maha Gujarat Bank Employees Association (MGBEA) has alleged that that the supply of currency notes from the RBI has taken a major hit.
"The demand for new notes has reduced due to the pandemic. However, there is no constraint on the supply side from the RBI and it is easily available," said MM Bansal, convener, State Level Banking Committee (SLBC) – Gujarat.
FacebookTwitterLinkedinEMail


Source link
#Drastic #fall #demand #notes #Diwali #gifting #Surat #News